About The Good HOoks
The band was founded in 2010 after front man Steve Raszka and long time friend and former band-mate, Adam "Mr. Show" Dunki-Jacobs, reunited after taking a couple of years off after several rigorous years of touring. This was the first time the two of them had played music together since their college touring days, when they played original music in the Steve Raszka Band and professionally toured the Midwest and South for several years. Eric Combs joined the group in 2013 and brought a vibrant, new dimension to the band that completed the sound that has made The Good Hooks one of the hottest cover bands in Southwest Ohio. Since then, The Good Hooks have been featured on Cincinnati's CBS affiliate, Local 12, for Bengals Nation with Head Coach Marvin Lewis. They have also headlined numerous music festivals in front of thousands, played high profile venues across multiple states, and have played a countless number of weddings. In 2015, Adam decided to step aside from playing music with the guys to help raise his three beautiful kids and focus on his career in engineering. On occasion, you might see Mr. Show pop up on stage with the guys on percussion, as he and the guys are still very close friends. 
Steve Raszka - Lead Vocals, Rhythm Guitar, Booking, Management, and Video Wall Production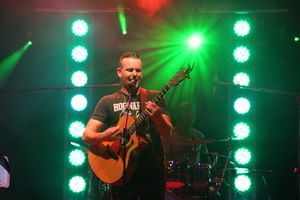 Steve has almost 20 years of experience as a front-man of different projects and he has played thousands of shows throughout various quarters of the United States. Steve's professional music career started while attending Bowling Green State University on a baseball scholarship when he started playing open mic nights for a handful of his teammates and friends. Those small crowds quickly turned into a frenzy of sold out shows and the Steve Raszka Band became a touring machine. That success eventually landed Steve with an opportunity to open for Grammy Award winning singer/songwriter Jason Mraz. Steve's live performances are fueled by a love of entertaining and making sure everyone in the crowd has a great time, which gives him a very unique ability to genuinely connect with his audience. Steve also took on a major role in 2018 by adding a video wall to the band's live production, which you will see at most shows moving forward. The Good Hooks now have the capability of having three 120" projection screens set up as a backdrop during their shows with stunning graphics and video content. 
Dr. Eric "Ricky" Combs - Lead Guitar, Backup Vocals, Lighting Production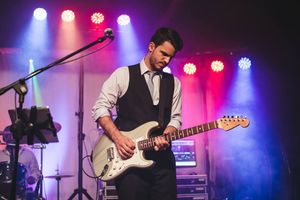 Eric grew up around music. Learning how to play the guitar at 7 years old, he grew up playing live music at bars and music clubs at a very young age. When Eric and Steve were in high school, Eric actually taught Steve how to play the guitar and they played in a band called Plinko. They have now reunited many years later on a much more professional level with The Good Hooks. Eric is also the mastermind behind the band's new and very complex lighting production and enjoys adding new elements to every show. Eric is an optometrist by day and a rock star by night! 
Darius Scott - Drums, Percussion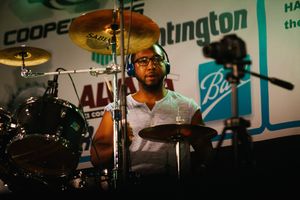 Darius has been playing drums for close to 27 years! His background is a very eclectic mix of rudimentary drumming, gospel music, and pretty much every other genre imaginable. He has traveled extensively across the country with the Capital Regiment Drum and Bugle Corps and the Miami University Marching Band. He also traveled to India in 2006 to play with Grammy Award Winning Artist, A.R. Rahman, who is most notably recognized for producing the music for the movie "Slumdog Millionaire". He has a passion for playing drums at his church, but has recently entered the rock scene with several bands, including The Good Hooks, and is loving every minute! When he is not sitting behind a drum set you can find him enjoying a glass of wine with his beautiful wife or taking over the corporate banking world at Fifth Third Bank. 

Brian Batchelor-Glader A.K.A. "BBG"- Piano, Keyboards & Keytar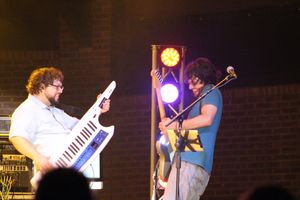 BBG is the newest addition to The Good Hooks and started playing occasionally with them in the summer of 2018. Right from the start, the guys and B.B.G. hit it off so he will be regularly featured with The Good Hooks in 2019 and beyond! B.B.G. adds an unbelievable amount of depth to the band's sound and is a major presence on stage. Brian has been playing professionally for over 20 years and is one of the most in demand keyboard players in the Greater Cincinnati area, across multiple genres of music. He has played on numerous national tours with various A-list musicians and is a regular jazz pianist at the most popular jazz bars in Cincinnati. B.B.G. also teaches piano at the Cincinnati Music Academy.